Want to sell Feet Pics on OnlyFans but don't know how?
Well, we have a step-by-step guide explaining the same in the easiest way possible.
OnlyFans is one of the most popular content subscription platforms across the world.
There are tons of content creators on OnlyFans who make tons of dollars from their subscribers.
For the unversed, OnlyFans is a platform where content creators receive money directly from their subscribers on a monthly basis.
A lot of people out there who want to make money but they don't want to reveal their faces to their subscribers.
If you too are one of them then don't worry, we have you covered.
This post will explain how to earn some extra money by selling feet pics on OnlyFans.
Yes, you read that right! You can make a decent amount of money by simply uploading pictures of your feet on OnlyFans.
The reason why everyone wants to sell their feet pictures on OnlyFans and FeetFinder is they do not require the content creators to showcase their real faces.
Without any further ado, let's get started:
Selling Feet Pics On OnlyFans
Selling Feet Pictures on OnlyFans is pretty simple. However, if you don't know the process then follow the steps written below: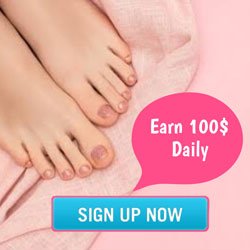 Visit the official website of OnlyFans.
Once you are on the official site, click on the Sign Up button and create an account.
Once created, you will have to use the newly created ID to log in to OnlyFans.
Once logged in, you will be asked to verify your email ID.
Once you have successfully verified your email, you will be asked to fill in details like First Name, Last Name, Country, Address, City, ZIP Code, Twitter ID, Instagram ID and website URL.
Once entered, you will be asked to upload a Government-issued ID like a Passport.
Similar to FeetFinder, you will have to upload a Government-issued ID and a photo holding your ID.
Before you upload your ID and a photo holding your ID, make sure your photo meets the below-mentioned requirements.
Once your OnlyFans account is approved, you will have to open OnlyFans and head to the Settings option.
There, you can set your monthly subscription price or set it free. (The minimum subscription price is $4.99).
Note: You can only set your subscription price on OnlyFans after adding your Bank Account or Payment Information.
Once you have successfully set up an account, you can post your feet photos on OnlyFans.
Now, you will have to click some quality pictures of your feet.
Once clicked, select the better one and write an engaging post and select the price.
Once done, click on the Post button.
That's it.
That's everything you need to know about how to sell feet photos on OnlyFans.
While you are here, you might also be interested in knowing how to sell feet photos on Instagram, Craigslist,FunwithFeet, FeetFinder, Etsy, Feetify, and others.